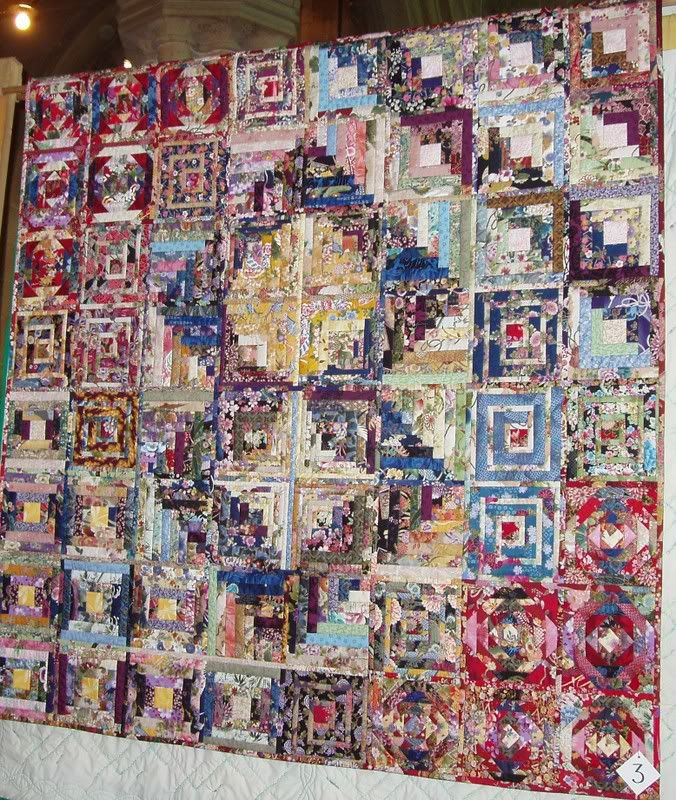 I got home late last night after three days at the Great Northern Quilt Show at Harrogate. The show seems to have taken on a new lease of life this year, returning to the usual hall and with lots of really great entries. I wasn't judging, so I had a bit more time to set up my demo and sales stand, just as well with all the stuff I had taken! With a 4.5 metre frontage, I needed some help to cover it all, so my mum & friend Debbie from Gresford Craft Group gave me a hand every day.

I entered my Kasuri Sampler quilt (right) in the Large Wallhanging section, where it won a rosette - second or third, I'll have to check! My other quilts in the competition were "Dancing Colours" and "Oriental Log Cabin Sampler"(top),which won the Scrap Quilt award (these photos were taken before the quilt show).
The blocks for the Kasuri Sampler are all from my latest book, "Japanese Quilt Blocks to Mix and Match", here
http://www.susanbriscoe.co.uk/japanquilts.htm
Other quilts from the book are going on tour with Grosvenor Exhibitions next year, from September, so look out for them around the UK.
Tomorrow I'm doing the cutout photography for next year's sashiko book, "Japanese Sashiko Inspirations", with our photographer Karl Adamson, so there's lots to sort out for that, mostly vintage items from my collection that have been the design sources for the new project. Plus there's the car to unpack... lots to do!